Peter Pig 15mm Modern/Sci-Fi
Unless otherwise stated, packs came in eight figures of three poses-- 3, 3 and 2 figures of each.
Modern Africa:
L-R: 77-52, Regular Beret AK-47; 77-37, Regular Beret G3/SLR; 77-83, Israeli Defense Force M-16 (Israel/Palestine conflict covered in a supplement to Peter Pig's AK47 modern Africa rules)


Modern Africa:
L-R: 77-38, Regular Beret LMG; 77-30, Regular Officers Beret


Modern Africa:
Painted squads assembled from the above. I added the ammo belt over the one LMG guy. Based on .5" diameter steel washers, base built up with 5 min. epoxy used to base the minis. Cammo scheme loosely based on this Kenyan pattern.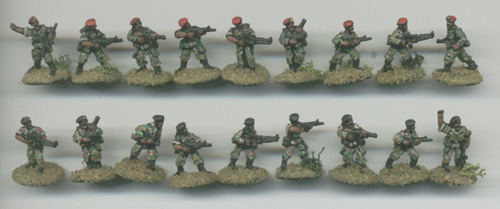 Israeli Defense Force Riflemen with M-16s, pack 77-83.


Science Fiction:
L-R: 9-7, Security Troopers; 9-1, Troopers in full kit (4 poses); 9-11, Combat Robots (5 identical pose); 9-4, Phug Warriors (3 identical pose, scan shows top and bottom view of upper piece)